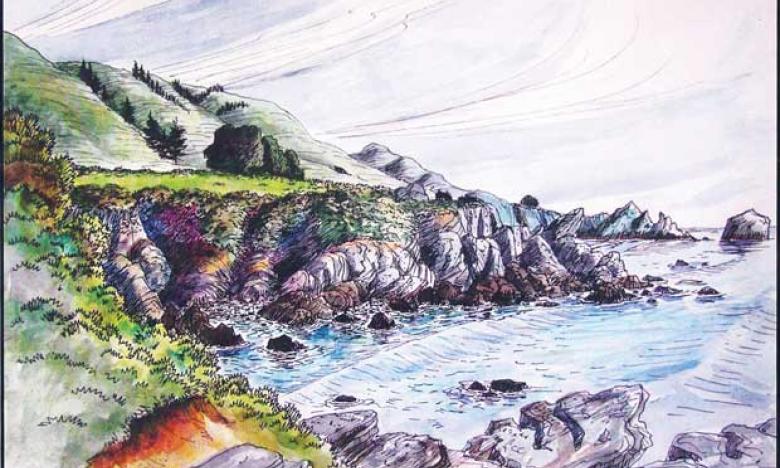 In the beginning, Alan Freeman's work was controlled, with black and white line drawings, or etchings. His subjects were precise to life or his mind's eye. One of the etchings I own carefully details a dilapidated Victorian sofa in front of a window with the tail of a surfboard beside it. He and many of his surfer friends slept there. Couchsurfing back in the day when the waves were more important than lodging. Alan drew beach seascapes on flat surf days, rolling green hills at Lake Cachuma, and jagged purple peaks surrounding Mount Whitney on hiking trips. His imagination and humor created colored fish with attitudes and personalities. I have "Wounded Saber-Toothed Warrior Fish II" adorned in green and yellow with a very small, crossed band-aide on his gill side. "Shipwrecked at Cormorant Shoals or the Wreck of the Swan" is an intricately detailed three-masted sailing vessel aground next to rocks and gnarled trees. I don't know if it is real or fantasy.
Alan was the most gentle of men and generous to a fault. As the effects of his exposure to Agent Orange during Vietnam progressed, his art changed as well.  Now more bold color was applied with faster strokes as if to paint as much as possible in a limited time. He gave his work away to his friends urgently, embarrassing us with our own desire for his art. Then after he stopped surfing, stopped roaming, and retired to his home in Lompoc, his work changed even more. I remember a dinner with friends under the summer sky, a rare evening gathered on the hills of Santa Barbara. He set up his brushes and painted through the entire party. His hand's impairment had increased, and he could not hold a pen. His brushstrokes were wild, impressionistic, and full of the most vibrant color. It was as if all the intensity of his art was concentrated as his days on earth became shorter. His life as it ended was like the last burst of a brush fire at night on the beach as the driftwood burned out.
Alan L Freeman, 67, died 11-11-2016.