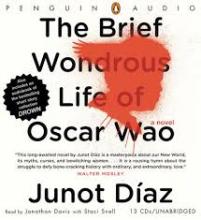 I recently reread The Brief and Wondrous Life of Oscar Wao (2007) by Junot Diaz. The story of a nerdboy Dominican Republic American struggling with love and life, it holds my attention to the end. Although the fantasy and gamer jargon and the DR Spanglish may confound a reader, there are many line by line definitions to be found if you just search the title on the Internet.
 http://www.annotated-oscar-wao.com/index.html
It is a heartbreakingly beautiful reflection on manhood and the essence of love. In light of his recent New Yorker article (4/16/2018) "The Silence: The Legacy of Childhood Trauma", this work is worth a deeper examination.
https://www.newyorker.com/magazine/2018/04/16/the-silence-the-legacy-of-childhood-trauma